Ads: Desktop PCs
Listed below are Desktop PCs items for you to car boot sale online here that you will find available in Newcastle upon tyne.
If you cannot find the Desktop PCs items that you are looking for in Newcastle upon tyne you can add your wanted item to let sellers contact you if they have any Desktop PCs items available for you. You can keep your contact information confidential. Enter only an email address in your car boot sale ad to receive offers into your account on our system. We will remind you automatically when new offers arrive for you.
To offer your items for sale on this online car boot sale in Newcastle upon tyne simply click Post free ads for Desktop PCs link below or the button Post free ad in top right corner of this page. It is fast, easy and free to post an ad in 2lazy2boot. It will take you just few minutes to have the ad seen on our listings. You can then edit your ads any time by clicking "Member area" button on top right corner of this page.

Results found: 1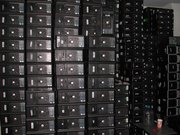 Big wholesale price offering Deal
25-04-2015 09:04
Small Form Factor & Desktop units GX 745 & 755 CORE 2 DUO Processor 1.83GHz, 2 GB RAM, 80 GB HARDDISK, CD-ROM DRIVE, WIN XP PRO COA The following units & prices are on the purchase of bulk quantity (purchase of 5 units & above) All prices are in U.S Dollars Prices will reduce further on the Purchase of 50 units & above Conditions These systems come with OS (Operating System/Windows), the units Windows XP Pro COA (Certificate of Authenticity/ Genuine Windows License Key/ License Stickers) Mode of Payments for the following units (Wholesale orders) is: Cash, Drafts, Money Transfer, Wire Transfer, Money Orders All the units carry 30 days warranty LIMITED STOCK AVAILABLE Grab the as many as you can the more you buy the more you get the discount For more details and specifications visit us or reply to our Ads Simply enjoy by investing in right systems Contact us NOW!!!.
Item offered for sale: Desktop PCs
in
United Kingdom, Newcastle upon tyne
...
View detailed
...
Results found: 1
Well here you go. Good luck with your on line car boot sale in Newcastle upon tyne. We hope you have some success and find buyers/sellers that you are looking for in Desktop PCs .
Don' t forget to comment any successes in selling your Desktop PCs items in Newcastle upon tyne to our valuation window and report forum!
We are sure you will find many people in Newcastle upon tyne looking for your Desktop PCs.